News: Startup beats QDs and OLEDs to colour rendering
Reprinted from EEnews article, May 24th 2017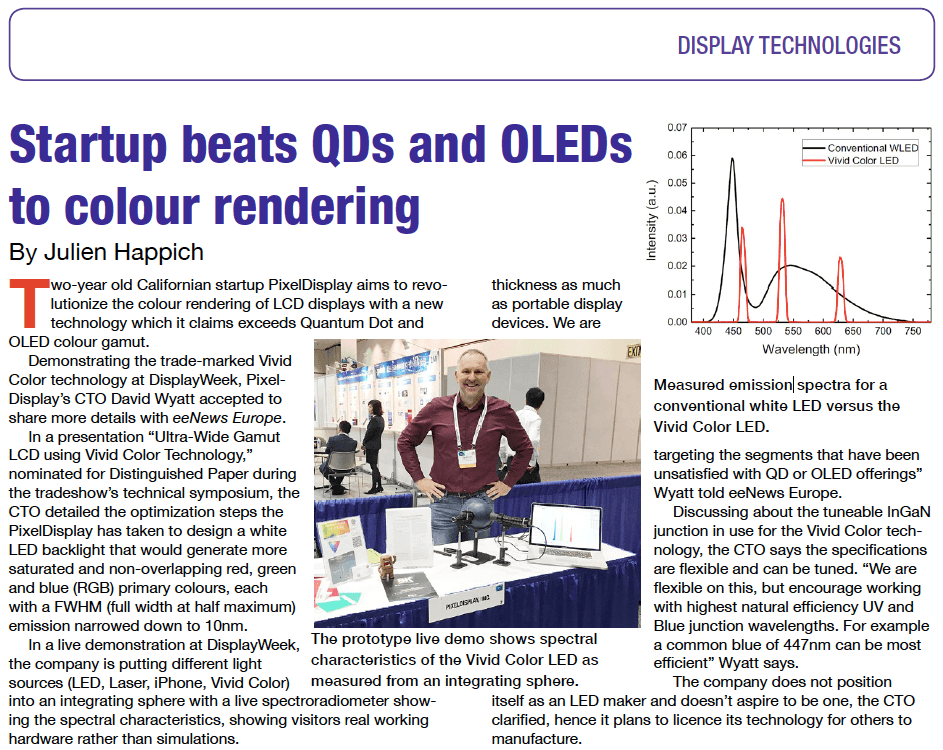 Demonstrating the trade-marked Vivid Color(TM) technology at SID DisplayWeek 2017 in Los Angeles, PixelDisplay's CTO David Wyatt accepted to share more details with eeNews Europe.
In a presentation "Ultra-Wide Gamut LCD using Vivid Color Technology," nominated for Distinguished Paper during the tradeshow's technical symposium, the CTO detailed the optimization steps the PixelDisplay has taken to design a white LED backlight that would generate more saturated and non-overlapping red, green and blue (RGB) primary colours, each with a FWHM (full width at half maximum) emission narrowed down to 10nm.
In a live demonstration at DisplayWeek, the company is putting different light sources (LED, Laser, iPhone, Vivid Color) into an integrating sphere with a live spectroradiometer showing the spectral characteristics, showing visitors real working hardware rather than simulations.
The proprietary InGaN LED developed by the company, together with a custom blend of nitride, silicate and aluminate based-phosphors and newly developed colour filters to efficiently suppress colour crosstalk, achieves a high colour gamut (97.8% Rec. 2020 in CIE 1976), comparable to laser-lit displays.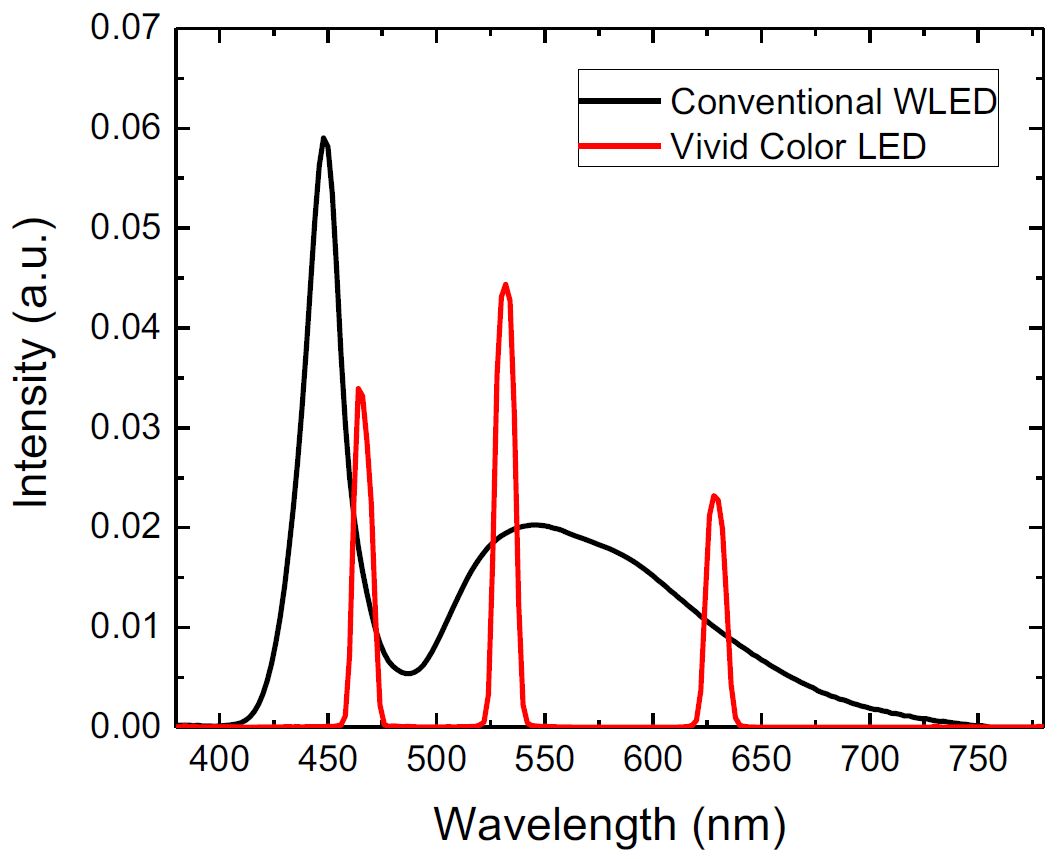 Emitting at three peak wavelengths of 467nm, 532nm, and 630nm for the primary blue, green and red colours respectively, consistent with the three primary colours of Rec. 2020 standard, the new white LED design not only outshines state-of-the-art QDs and OLEDs while being cheaper, it could also enable the use of more transmissive colour-filters, further improving power-efficiency and battery-life.
Discussing why most LCD displays use commercial white LEDs for their backlight (optimized for the broadest spectrum rather than three narrow RGB peaks), Wyatt explains that today's "White" LED is essentially a "hack". "It's really Blue + yellow, which psychovisually appears white to humans because it triggers complementary colour optic nerves".
"There are many other applications compromised by this Solid-state Lighting approach including street lighting, agriculture, HUDs" the CTO added, referring to the American Medical Association's warning on the adverse effects of unwanted blue light.
So why hasn't been done or attempted before?
"It has 'kind of' been done with quantum dot, and LG's "nanocell". The key differences are that we do it inside the LED, before the light even leaves the LED, and we recycle the light into what we do want to save power (battery-life) and maintain a higher energy-efficiency" Wyatt says, highlighting that the LG nanocell merely absorbs the unwanted light wavelengths.
"These past TV solutions haven't cared about power or thickness as much as portable display devices. We are targeting the segments that have been unsatisfied with QD or OLED offerings" Wyatt told eeNews Europe.
Discussing about the tuneable InGaN junction in use for the Vivid Color technology, the CTO says the specifications are flexible and can be tuned. "We are flexible on this, but encourage working with highest natural efficiency UV and Blue junction wavelengths. For example a common blue of 447nm can be most efficient" Wyatt says.
The company does not position itself as an LED maker and doesn't aspire to be one, the CTO clarified, hence it plans to licence its technology for others to manufacture.
"We're working within the panel ecosystem, with LED and Micro-LED as well as Panel and system level makers. Licensing and creating joint ventures as we go".
Another interesting applications for these pure primary colours white LEDs include holographic displays used in AR applications, notes Wyatt.
"Typically, those use lasers for the narrow FWHM needed for wavefront reconstruction in holographic 3D, but we now have a zero-speckle and eye-damage-safe alternative" he emphasized.
As an added bonus for display manufacturers, the Vivid Color LED technology leverages existing manufacturing processes and infrastructure while being fully RoHS compliant.
(c) 2017, EEnews Europe. All rights reserved.