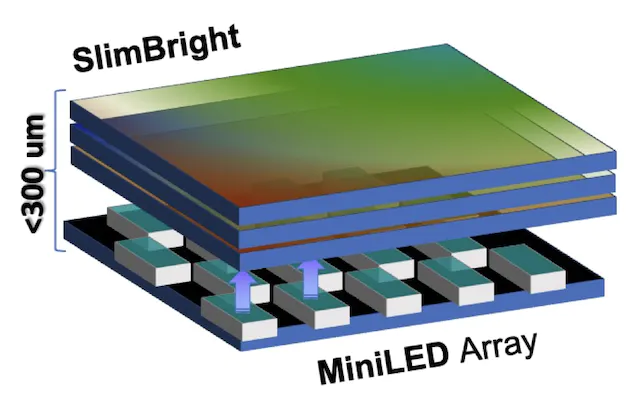 SlimBright™
Description
A challenge for portable panels is making a compelling, colorful, power-efficient, high-contrast experience, with deeper (OLED-like) blacks as well as bright highlights, over larger sizes and more economically (than OLED), within thin form factors. To solve this problem PixelDisplay created SlimBright™ a backlight module which combines Mini-LED's, VividColor in a flexible thin-film layers stack for LCD 2D backlight, which removes the need for traditional rigid layers (light-guide, diffuser, collimator). The development kit additionally covers the drive logic to solve the problems of: large-array regional dimming, integration with eye-safe NoBlue™, low-latency Burst-Refresh™, high-refresh pulsed backlight, while mitigating longer term usage-specific issues like uneven wear, staggered placement, and uniformity.
Target Applications: LCD 2D Backlight on Rigid or Flexible (Polyimide) Backplanes
Requires: completing the VividColor™ Technology License.
Please enter an amount that is at least
1
Additional details
VividColor SlimBright Technology Development Kit (TDK) includes: - Micro-LED 2D backlight and driver board - Thin-film color-conversion diffusion layer - Technology & Architecture Background - Interface Specification. Development tools, and software