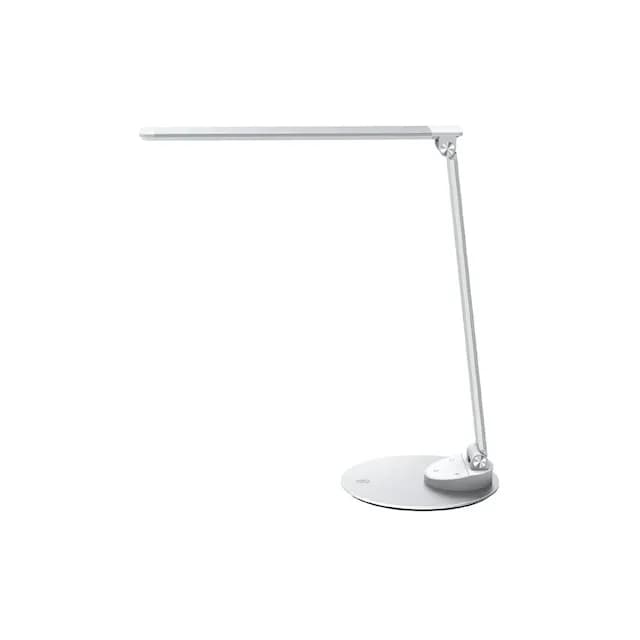 Vivid Color™ Lamp
Description
Technology demonstrator lamp features: Vivid Color™ technology, including Vivid Color™ LED's and NoBlue™ LED's for >95 CRI for High Color-Rendering Index, and eye-safe night time mode with lower blue-hazard than candle-light, and DayBright™ combined high-brightness mode with high circadian stimulation - for morning & daytime alertness. Automatically adjusts lighting to your environment, and integrates with HomeKit & Alexa for control to reduce blue-light, in co-ordination with personal computing devices.
Key Features: Selectable CCT: 2000K (candlelight), 2400K (vintage incandescent), 3000K, 3500K, 4000K, 5000K (morning sunlight) and 6500K (cool midday). Selectable Brightness: 10 levels Automatic Light-Adjustment: Time-of-day, Sunset/Sunrise and Ambient Light Sensing Touch controls for Power, Brightness, Color Mode, Automatic Memory retains settings over power-off/on Flexible adjusting arm
Requires: completing the VividColor Technology License. This light fixture is provided as-is development kit sample, no UL, FCC or other certifications, are included.
Please enter an amount that is at least
1
Additional details
Aluminum-alloy swiveling flexible body 110V AC adapter, 9 watts Built-in USB charging port HomeKit & Alexa Integration 500 Lumen maximum light output 2.7 lbs, 17.52 x 25.98 x 7.2 inches Includes: circuit diagram, design guides, PCB layout files and BOM (Bill-of-materials).